About
Proverbs 17:22
Hello all,  thanks for visiting our site!
My name is Joel Jost and I am the director here at Jostie Flicks which is primarily run by Josiah, Emily (two of my siblings) and myself. I am a Christian homeschool graduate/self taught filmmaker, 4th born out of 11 children and I love making films with my family. The name "Jostie" is our family's nick name…we also have a family band called "The Josties".
My family and I try and put out a short film a week when we are able…so stay tuned to this site to see new videos from us. And please subscribe to our YouTube Channel HERE!
Find out more about our family and our band at our website:
http://www.josties.com
JOIN US ON FACEBOOK: http://www.facebook.com/JostieFlicks
FOLLOW US TWTTER: https://twitter.com/JostieFlicks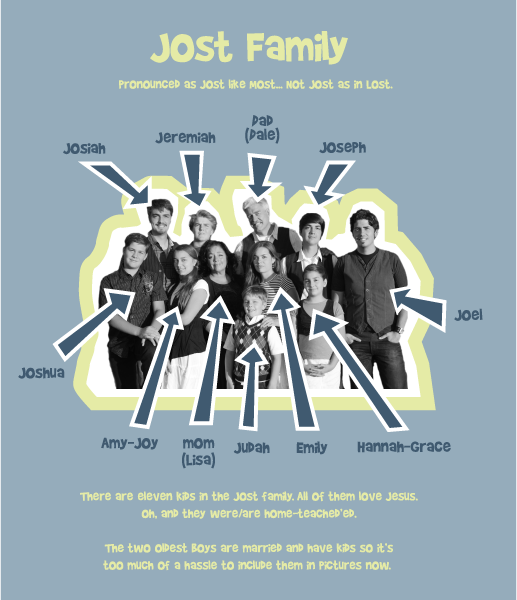 Wanna send us something? 
Canadian address:
Jostie Flicks
PO box 85 Milk River, AB
T0k 1M0
Canada
American address:
Box 386
Sweet Grass, MT
59484
MEDIA INQURIES: contact joeljost [at] gmail [dot] com
Donate to help Jostie Flicks continue to put out clean family friendly videos.
We fund all our videos…so any financial support would be greatly appreciated.